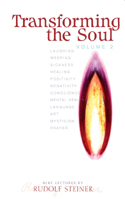 Those who observe human nature with regard to the smallest things will find that everyday experiences can also lead to an understanding of the greatest actualities...'
In a refreshingly practical series of lectures, Rudolf Steiner speaks about the nature of the human soul and how it can be metamorphosed and raised to a higher consciousness. He studies the spiritual significance of various expressions of human nature, including laughing and weeping, sickness and health, error and mental disorder, positivity and negativity, and conscience. Steiner also discusses the nature of prayer, mysticism, the mission of art, and the significance of language. Throughout the talks he refers to many key historical figures, including Zarathustra, Socrates, Plato, Homer, Wagner, Goethe, Hegel and Angelus Silesius.
These inspiring lectures form the conclusion to Transforming the Soul, Volume 1, but can also be read independently.
June 2006; Trans. revised P. Wehrle (9 lectures, Berlin, Jan-May 1910, GA 59); RSP; 232pp; 21.5 x 13.5 cm; pb;
£13.99 ISBN 9781855841833