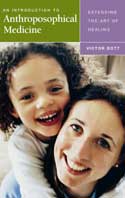 In modern times western societies have become increasingly familiar and at ease with many complementary and alternative types of medicine, often derived from eastern sources. Rudolf Steiner's anthroposophical medicine, founded in the early part of the twentieth century, is a renewal of the original sources of western medicine. However, unlike many modern medical practices based on reductionist, materialistic thought, Steiner's truly holistic system encompasses a picture of the human being as an entity of body, soul and spirit. Anthroposophical medicine seeks to bring harmony to these various aspects of the human constitution.
Victor Bott, a medical doctor, gives a comprehensive overview of this remarkable system of medicine, and presents a new approach to understanding the various types of diseases. His survey includes a discussion of the stages of human development, the roles of various organs such as the lungs, liver, kidneys and heart, particular diseases of many kinds, and pointers as to why people fall ill in the first place. He also discusses the increasing prevalence of cancer, and gives insights into specific phenomena such as the menstrual cycle.
This volume will be illuminating both for medical practitioners and therapists who wish to learn more about anthroposophical medicine, and for patients who would like a deeper understanding of a key medical approach.