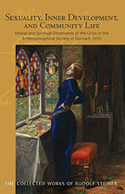 "These lectures and documents from the summer and fall of 1915 were a response to a crisis in the Anthroposophical Society, a crisis Rudolf Steiner wanted the membership to be aware of. In part, the crisis was provoked by Alice Sprengel, a long-time student of Rudolf Steiner, and her reaction to the marriage of her spiritual teacher to Marie von Sivers. Her expectations, the exact nature of which is not quite clear, were connected to the important role she felt herself playing in the anthroposophical movement. Faced with the close working relationship and then the marriage of Rudolf Steiner and Marie von Sivers in the winter of 1914, Alice Sprengel not only sent personal letters to both but also brought her disappointment and sense of abandonment to the attention of other members of the Anthroposophical Society."
"She also had a close relationship to Heinrich and Gertrud Goesch, a couple whose interest in Rudolf Steiner's work was matched by an equally strong fascination with the then-emerging psychoanalytical school of Sigmund Freud. Influenced by Alice Sprengel and his own inner uncertainties, Heinrich Goesch accused Rudolf Steiner, both privately and publicly, of manipulating the membership of the Anthroposophical Society into a dependent status." —Christopher Schaefer, PhD (from the introduction)
Occasioned by a "scandal" precipitated by Rudolf Steiner's marriage to Marie von Sivers in 1915, the lectures that constitute part one contain Steiner's strongest statements on the issue of human relationships in a spiritual community. Using emphatic language Steiner makes it clear that becoming part of a spiritual community entails responsibilities and, indeed, a new way of being, and that members must become actively interested and engaged in the concerns of the group rather than simply wanting or expecting personal benefit from it. Above all, he asserts that it is essential for members to realize that a spiritual community is a living entity that needs the care and respect of its creators.
Because the crisis had been provoked by individuals under the influence of Freudian psychoanalysis, Steiner assesses Freud's work, and psychoanalysis as a whole, illumined by an anthroposophic understanding of the human being. Steiner also speaks on sexuality and modern clairvoyance, relating them to Freudian psychoanalysis, as well as to the seer Emanuel Swedenborg as an example of the difficulties of entering the spiritual world. Then, starting from a historical perspective, Steiner poses a question: How old is love? He goes on to examine our modern idea of love in the context of mysticism.
Part two includes documentation of the Dornach crisis, along with two addresses by Rudolf Steiner to the members there, as well as Marie Steiner's address to the Women's Meeting on the particular tasks and challenges of women, both as members of the women's movement of the time and in a spiritual community.
CONTENTS:
Preface
Introduction by Christopher Schaefer, PhD

I. Terms and Conditions of Life in the Anthroposophical Society
Requirements of Our Life Together in the Anthroposophical Society (Dornach, September 10, 1915)
The Anthroposophical Society as a Living Being (Dornach, September 11, 1915)
Swedenborg: An Example of Difficulties in Entering Spiritual Worlds (Dornach, September 12, 1915)
Methods and Rationale of Freudian Psychoanalysis (Dornach, September 13, 1915)
Sexuality and Modern Clairvoyance: Freudian Psychoanalysis and Swedenborg as a Seer (Dornach, September 14, 1915)
The Concept of Love as It Relates to Mysticism (Dornach, September 15, 1915)
The Philosophy of Psychoanalysis as Illumined by an Anthroposophical Understanding of the Human Being (Dornach, September 16, 1915)

II. Documentation on the Dornach Crisis of 1915 with Two Addresses by Rudolf Steiner
The Protagonists
Letter from Alice Sprengel to Rudolf Steiner (undated, received December 25, 1914)
Letter from Alice Sprengel to Rudolf Steiner (Arlesheim, February 3, 1915)
Letter from Alice Sprengel to Marie Steiner (Excerpt, undated, received August 21, 1915)
Letter from Mary Peet to Alice Sprengel (Arlesheim, October 1915)
Address by Rudolf Steiner, August 21, 1915
Letter from Heinrich and Gertrud Goesch to Rudolf Steiner (read by Steiner, Dornach, August 19, 1915)
Letter from the members in Dornach to Rudolf Steiner (Dornach, August 21, 1915)
Address by Rudolf Steiner, August 22, 1915
Resolving the Case
Letter from the members in Dornach to Marie Steiner
Letter from the Vorstand of the Anthroposophical Society to Heinrich and Gertrud Goesch and Alice Sprengel (announcement of expulsion, Dornach, September 23, 1915)
Marie Steiner's Address at the Women's Meeting (Dornach, September 24, 1915)
Letter from Marie Steiner to Julia Wernicke (Dornach, September 29, 1915)

Editorial and Reference Notes
Rudolf Steiner's Collected Works
Significant Events in the Life of Rudolf Steiner
Index
Sexuality, Inner Development, and Community Life is a translation from German of the book Probleme des Zusammenlebens in der Anthroposophischen Gesellschaft. Zur Dornacher Krise vom Jahre 1915 Mit Streiflichtern auf Swedenborgs Hellsehergabe, Anschauungen der Freudschen Psychoanalyse und den Begriff der Liebe im Verhältnis zur Mystik (GA 253).
This volume is part of the series that appears under the heading "Writings and Lectures on the History of the Anthroposophical Movement and the Anthroposophical Society," volumes 253 to 262 in The Collected Works of Rudolf Steiner.