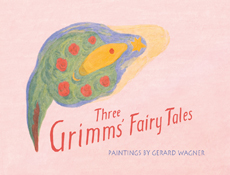 The illustrations in Three Grimms' Fairy Tales by the German painter Gerard Wagner for "Briar Rose"; "Jorinde and Joringle"; and "The Star-Taler" represent a unique artistic approach to children's book illustration. Through Wagner's life-long investigation into how form can arise from objective color experience, the images are attuned individually in a deep way to the mood of each fairy tale and to children's essential moral nature and creative fantasy. The book is a finely illustrated children's book as well as a book of fine art.
Three Grimms' Fairy Tales also includes an afterword on painting "out of the color" by Peter Stebbing, director of the Arteum Painting School in Dornach, Switzerland.
Gerard Wagner (1906 - 1999) was born in Germany and grew up in England. He began his vocation as an artist by learning from an English plein air painter before starting formal studies at the Royal College of Art in London. Beginning in 1926, he took up the challenge of a new direction in painting as initiated by Rudolf Steiner, which became the essence of his life's work for more than seventy years. Through his efforts to grasp the secrets of Steiner's training sketches for painters, Wagner succeeded in disclosing their metamorphic character and, from this, was able to develop a systematic approach to painting. Elisabeth Wagner-Koch, whom Gerard later married, became his first student in 1950, and together they established The Painting School at the Goetheanum, of which he remained the principle teacher until his death in Arlesheim,Switzerland. Rudolf Steiner's indications for an art of the future remained the impulse for Wagner's research and artistic activity throughout his life. The fruits of his research are a unique method of teaching and his archive of paintings, which continue to be a source of inspiration for the school. Wagner's wife Elisabeth cares for the archive of about 4,000 paintings. Visit the Painting School at the Goetheanum online.