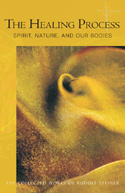 In all his lectures to doctors and in his explanations of anthroposophic medicine, Steiner emphasized that his medical concepts are not intended to replace conventional Western medicine, but to extend it; diagnosis and healing methods are expanded to include our soul and spirit.
In these broadly ranging talks, Steiner introduces fundamental principles of anthroposophically-extended medicine. Some of the most remarkable insights that anthroposophy brings to medicine are contained in this volume. For example, Steiner points out that the heart is not a pump and that its motion is a consequence, not the cause, of rhythmic movements in human beings.
Topics include: health problems, such as hay fever, migraine, sclerosis, cancer, tuberculosis, typhoid, and childhood diseases; the polarity between nerve and liver cells; the functions of the spleen and the gallbladder; the three basic processes of sensory-nervous system, rhythmic system, and metabolic-limb system; regenerative and degenerative processes; the true nature of the nervous system; and many suggestions for the use of minerals, plants, and artistic therapies in healing.
January 2011; Trans. C. E. Creeger (11 lectures, 28 Aug 1923-29 Aug 1924, GA 319); SB; 320pp; 23.5 x 15 cm; pb;
£22.50 ISBN 9780880106412