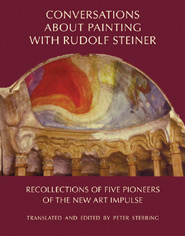 The purpose of this illustrated volume of first-hand recollections is to increase appreciation in the world for Rudolf Steiner's artistic contributions to modern culture. The authors represented in Conversations about Painting with Rudolf Steiner offer insights into Steiner's intentions as he responded to artists' questions about the deeper, spiritual aspects of painting, color, and role of the arts as a whole in culture and society.
Peter Stebbing's inspiration for translating these conversations was an early reading of Hilde Boos-Hamburger's book on Steiner's "new art impulse" (included here). Through the years, Stebbing also came to recognize the importance of other artists who were influenced by Steiner. Margarita Voloschin, for example, describes the inner transformation required of artists who wish to deepen their artistic sensibilities as described by Rudolf Steiner. Henni Geck, though she wrote little on art, is an important figure in this school of artistic renewal through having elicited numerous training sketches from Steiner. Assya Turgenieff was a pioneer artist who worked with stained glass. Her discussion of the artistic approach she used - which incorporated both color and sculpting techniques - can be applied to other visual arts as well.
Conversations about Painting with Rudolf Steiner is an extraordinary contribution to a deeper understanding of the "anthroposophic" arts. Richly illustrated, this volume will warrant serious study and frequent rereading and browsing. A great book for the coffee table.
Peter Stebbing was born in Copenhagen in 1941 and attended Waldorf schools before studying art in Brighton and London. He moved to the U.S. and graduated from Cornell University with an M.F.A. in painting. Following his first teaching stint at the University of Kansas, Peter began teaching color courses at the City University of New York in 1970. Having begun investigations into Goethe's color theory, he visited the Gerard Wagner painting school in Dornach, Switzerland. There he began training with Wagner, who asked him to teach in the school. Peter later established a painting school at the Threefold Educational Foundation in Spring Valley, New York. For the past thirty years, he has taught introductory courses in Goethe's color theory with experiments in England, Germany, Switzerland, and the U.S. Since 1992, Peter has been director of the Arteum Painting School in Dornach, Switzerland (www.arteum-malschule.de.vu), and has held a number of exhibitions of his work in Europe and North America.